A little over a year ago, I saw a guest post on one of my writing heroes websites: writers helping writers. Angela Ackerman and Becca Puglisi announced their brand new writing Coach residency. The coaches were HIGHLY esteemed with the likes of James Scott Bell and C.S Laiken.
When I saw it I was so excited. I thought it was amazing that they had brought together such an insane line up of coaches and I'd get the benefit of learning from all their tips.
I also made a promise to myself that day. I swore that whether it was in five years, fifteen years or fifty years, I would be able to call myself a writing coach. I didn't know how I'd manage it or if I'd ever be good enough to call myself that. But that didn't matter. I wanted to be one and I was determined to help others.  
So I was totally and utterly mind fuggled when a few weeks ago, an email from Angela herself dropped into my inbox asking if I'd join their coach programme…
UMMMMMMMMMMMMMMMMM
Let me think about that…!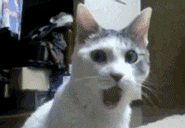 FUCK YEAH I WILL. Need I say more!
I'm still in shock, I was in shock when the new coach line up was announced, and I was even more shocked when yesterday my first guest post went live.
I'm in amongst some ridiculous talent, I can't quite get my head around the fact mug shot is in amongst a CRAY CRAY line up, but there we are.
In my first guest post, I'm talking about how we as writers often focus on story and character arcs and forget that one of the fastest ways to improve our novels is to focus on the detail.
If you'd like to check out my 5 top tips and instantly polish your craft, go check out my first coach post:
Getting Jiggy With The Nitty Gritty, or, Improving Your Sentences
You can also find me on Facebook, Twitter, Instagram, Pinterest, Goodreads
Don't forget, 13 Steps To Evil – How to Craft Superbad Villains the textbook AND workbook are out now.
Click this link for the textbook 
Click this link for the workbook
You can also get a FREE villains cheat sheet by joining my mailing list just click here.
SaveSave
SaveSave
SaveSave